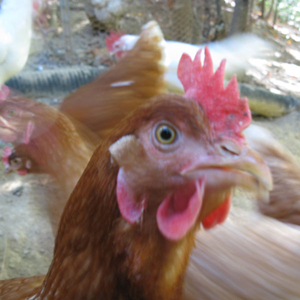 Hap Mountain Herbal
Contact: Tricia Shapiro
Address: PO Box 783 Hot Springs, NC, 28743
Email Address: mtnherbal@gmail.com
About Us
We're a small, family homestead farm in Madison County, NC, about an hour northwest from Asheville. Our home-and-garden is a small clearing surrounded by thousands of acres of biodiverse natural hardwood forest. We're the last house up our road, a mile past the nearest neighbor, with no human development uphill from us in this watershed. Our water supply is a clean, clear, delicious mountain spring. We know that living here is healthy for us. We believe that growing here ensures purity and may enrich the medicinal properties of the plants we harvest.

Currently we sell eggs from our small flock of chickens that also supplies our growing beds with manure. Our chickens roam free on wooded pasture during the day, and eat soy-free, no-GMO feed. We also grow and sell wellness tea herbs: jiaogulan for morning wellness, and a nightly wellness blend.
Practices
We limit what we grow and harvest to fit what our garden and forest can sustainably produce. When we harvest wild plants, we leave enough to allow them to reproduce and remain abundant. Likewise, in and around our garden we aim to build rather than deplete soil quality and biodiversity.

We limit our business to a size appropriate for supporting a family homestead, rather than for production on an industrial scale.

We limit what we sell to products we believe can be beneficial and are unlikely to cause harm.